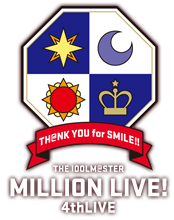 THE IDOLM@STER MILLION LIVE! 4thLIVE TH@NK YOU for SMILE!! was a three days concert event that held on March 10th until 12th, 2017. The concert featured various voice actresses from the THE iDOLM@STER: Million Live! social game performing songs from the franchise. It took place in the Nippon Budokan.
The live concerts are divided into three different performances, with one show for each day. Each performance name is "Sunshine Theater", "BlueMoon Theater", and "Starlight Theater".
The concert was live-streamed to 55 cinemas across Japan, which is the largest as a live performance of Million Live.
Set List
Day 1 "Sunshine Theater"
Held on March 10th 2017 (Friday)

Day 2 "BlueMoon Theater"
Held on March 11th 2017 (Saturday)

Day 3 "Starlight Theater"
Held on March 12th 2017 (Sunday)

Performers
This is a list of performers appeared in each day of live concerts
Day 1
Sunshine Rhythm
Cancer

Libra

Leo

Capricorn
Surprise Guest
Part 1 (From TA01)
Part 2 (From Otome storm! unit)
Day 2
BlueMoon Harmony
Sagittarius

Pisces

Virgo

Aquarius
Surprise Guest
Part 1 (From TA03)
Part 2 (From CRESCENDO BLUE unit)
Day 3
Starlight Melody
Scorpio

Taurus

Aries

Gemini
Surprise Guest
Part 1 (From TA02)
Part 2 (From Gessan Million Live!)
Part 3 (From BURNING GIRL unit)
Part 4 (From MILLIONSTARS)
Trivia